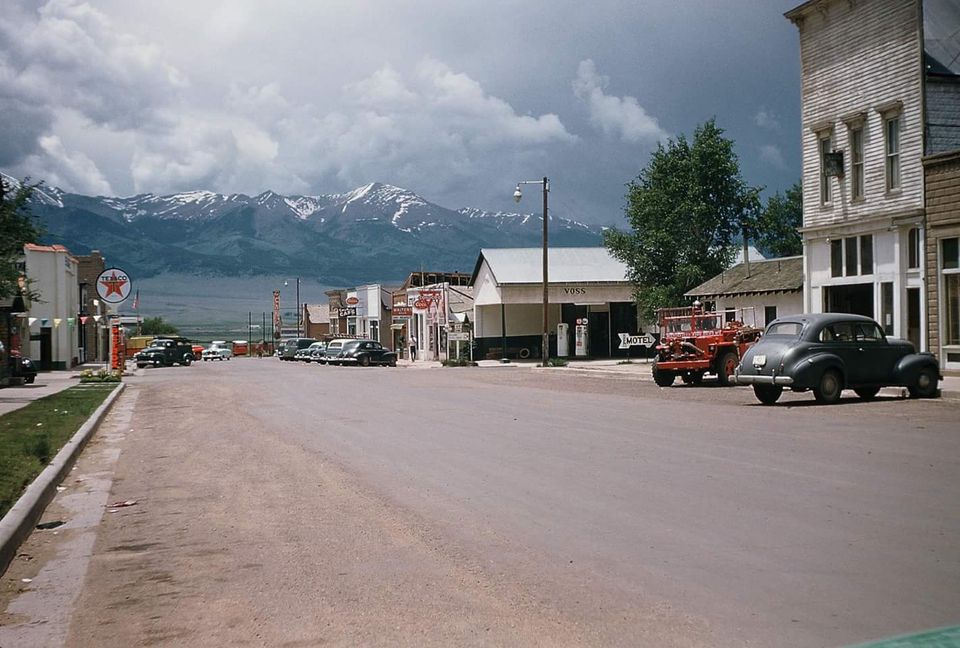 Discover Frontier Pathways
One of Colorado's Scenic and Historic Byways
The name of the byway sums it up perfectly. 
This old frontier zone south of the Arkansas River marked the intersection of Native American, Spanish, French, and American territories. Thousands left their footsteps in this much traveled corridor - first the Ute Indians, then Spanish and American explorers, and finally traders, fur trappers, homesteaders, ranchers, and gold and silver prospectors. 
Thse bygone travelers viewed the same snow-capped mountains, jagged canyons, carpeted meadows, and aspen-covered hillsides that we marvel at today, and the signs of their passage remain.
Historic buildings line the route, bearing witness to long-lost cattle empires, mining operations, and Victorian towns. Let this be your pathway to adventure.
Length: 103 miles.
Driving time: 3 1/2 hours.
Special features: Designated as a National Scenic Byway, San Isabel National Forest, Lake Pueblo State Park, El Pueblo Museum (Pueblo),  Old Westcliffe Schoolhouse Museum.
Contact: El Pueblo Museum (719) 583-0453, Old Westcliffe Schoolhouse (719) 783-2699
The columbine is Colorado's state flower. The Colorado Scenic and Historic Byways Commission has adopted the columbine as its logo. As you tour the Byways, the columbine signs will identify your route.
The Wet Mountain Valley Colonization 
In 1806 Lieutenant Zebulon Pike and his handful of soldiers were the first American citizens to pass through the wild Wet Mountain Valley, inhibited by Ute Indians, Bear, Elk, Antelopes and Deer.
64 years later, in 1870, a wagon road from the Valley to Canon City via Hardscrabble canyon was opened, inviting settlers to travel to the Wet Mountains.
And they came! A German colony from Chicago, led by Civil War veteran General Carl Wulsten left Chicago on Feb 9, 1870 and  arrived on  March 17, 1870. 
"So they started from Chicago, a group of 250 people, the pioneers of civilization. A notable event in the history of Chicago transpired yesterday. It was the departure of a colony of Chicago citizens for a home in the western wilds, the first of its kind which ever left this city and the first, its believed, ever organized in America. An immense throng of relatives and friends gathered to bid them farewell and God speed.
They were a splendid looking set of people including muscular athletic young fellows with rifles strapped to their backs and 20 fair hared, clear skinned German girls, all young, good looking and seemingly capable of taking good care of themselves and making excellent wives for those same gallant rifle bearers..."
Where the railroad tracks ended, the group shifted to covered wagons, with a military escort from Ft. Lyons, and six-mule teams. The new town was named after Vice President Schuyler Colfax who had expedited the government assistance and transportation to the Wet Mountain Valley. The group arrived at their destination, fifteen miles west of today's Westcliffe, on March 17, 1870. 
The colonists were industrious farmers and Colfax Colony might have succeeded if a promised amendment to the Homestead Act had passed (allowing groups as well as individuals to file). When it did not, the Colonization Company folded. Contributing to the failure was an early frost ruining crops, mismanagement of funds and the switch from Chicago sweatshops to Custer County farming. As the town foundered, businessmen in Denver sent supplies, twice, but when a powder keg exploded in December, so did the town. Colfax disappeared and the colonists went their own ways, many of them staying in the county and becoming successful and respected citizens. 
The Custer County population in 1880 was 3,080; in 1950, 1573; and in 1990, 1926.
Westcliffe
"It was said that the expanding Rio Grande would cheerfully build a branch line to Hades if brimstone traffic looked promising".
Dr. William A. Bell seems to have provided the catalyst which brought the railroad to the Wet Mountain Valley. He was a founder of Manitou Springs and a friend of Gen. William Palmer, builder of the Denver & Rio Grande and founder of Colorado Springs.
He came to the Valley with Gen. W. Palmer in 1870, searching for a southern railroad route. Bell was so entranced by the beauty of the Wet Mountain area, that he bought a large tract of land. The town was called Clifton until Dr. Bell renamed it for his birthplace in England. 
Westcliffe was the last of the major towns to be settled in Custer County. It owed its existence to the Denver & Rio Grande, for which it was a terminus. Bypassing Silver Cliff, the railroad station was built on Dr. William A. Bell's land. The first passenger train arrived in Westcliffe May 11, 1881, but the town wasn't established until 1885. Excursion trains were a regular feature, along with the freight cars carrying Custer County's riches to market.
Floods wiped out the tracks three times in the first nine years, and the D&RG pulled out. Ten years later it returned, using a drier route. The last train in the Wet Mountain Valley ran in 1938.
As the other towns in the county faded, Westcliffe became a trading center and resort area, and it survived. It became county seat in 1928.
The Westcliffe population in 1890 was 227; in 1920, 388; in 1950, 390; and in 1990, 312.