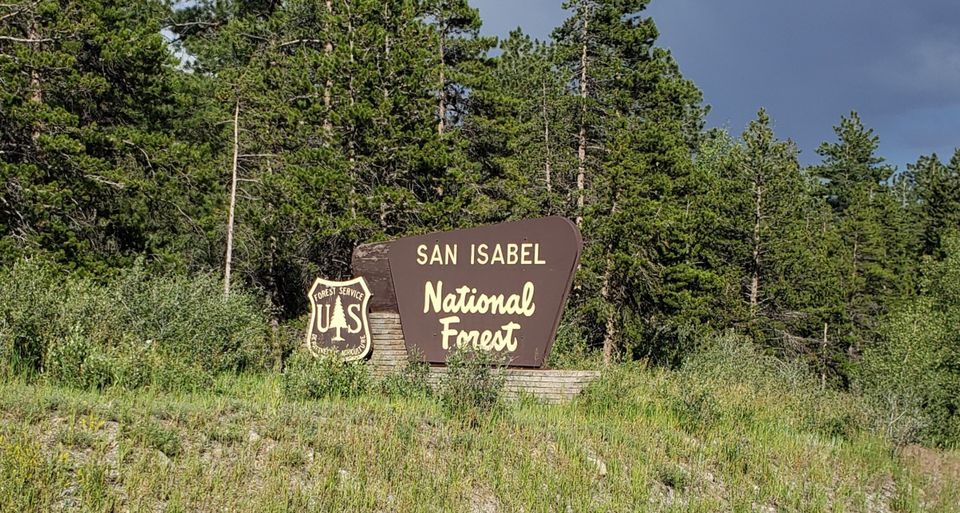 The San Isabel National Forest
Welcome to the San Isabel National Forest, one of eleven National Forests in Colorado. The Forest includes over one million acres of beautiful scenery with snow-capped mountains, wildflowers, autumn colors, mountain lakes, and clear blue skies to enjoy.
Prior to the establishment of the Forest, the presence of Indians, Spanish Land Grants, homesteading and the discovery of gold were important in shaping the land. The lands originally set aside as a Forest Reserve in 1902 were renamed San Isabel National Forest in March 1907. From 1907 until 1945 the Forest grew steadily in size, as several other Forests and additional lands were integrated into the San Isabel National Forest. Today the Forest is administered by three District Offices and the Supervisor's Office.
The forest is bounded on the west and north by the Continental Divide, and on the east by the Pike National Forest. The Wet Mountains, Collegiate Peaks, Sawatch Range, Spanish Peaks and the Sangre de Cristos provide a variety of scenery. Elevations range from a low of 5,860 feet to 14,433. The highest point is Mount Elbert, Colorado's highest peak. The high elevations account for the comfortable summer temperatures and year round snow on the higher peaks.
The Arkansas Headwaters Recreation Area
Another attraction is the Arkansas Headwaters Recreation Area. The Recreation Area stretches for 148 miles along the Arkansas beginning in Leadville, and ending at the upper end of the Pueblo Reservoir. The Area provides numerous opportunities for fishing, rafting, picnicking and camping, and is managed cooperatively by the Bureau of Land Management (BLM) and Colorado State Parks, P.O. Box 126, 307 W. Sacket St., Salida, CO 81201. (719) 539-7289.
Black bear, mule deer, elk, bighorn sheep, mountain goats, wild turkey, mountain lions are among the animals and birds that make their homes within the Forest.
Today, a00 miles of trails, ski areas, nineteen peaks over 14,000 feet, scenic byways, numerous roads and highways, campgrounds and picnic areas provide challenges and opportunities for everyone.
All this is yours to enjoy, but please, do so in ways that will allow others to enjoy it today and tomorrow!